ISO 31000:2018 'Risk management – Principles and guidelines' is the international standard that all businesses need to be utilising as a benchmark. Risks in Schools is highly regulated and is a rather complex concept which is comprised of several functions.
This can be done in 5 steps:
Risk Identification
Risk Analysis
Risk Evaluation,
Risk Monitor and Review
Risk Reporting.
Identifying risks that can occur within your school is the first step in the Risk Management process. Risk Management Analysis and evaluation using a likelihood and consequence table will allow you to rank your risks. Risks that you identify, may have either a positive or negative impact on your school and will obviously vary from one school to another. Some risks may be common across all schools such as cybersecurity issues whereas other risks will be unique such as risks associated with Boarding Schools.
Schools can also identify controls to put in place that will minimize the likelihood of that risk occurring. The steps identified here will form your School Risk Framework.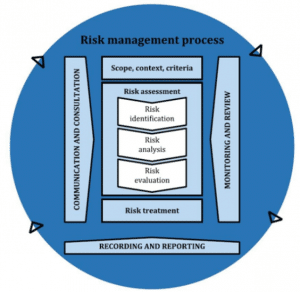 SCHOOL COMPLIANCE MADE EASY