The latest version of Tickit is delivered over the internet, on demand. The application is hosted on our fast and reliable servers and this presents our clients with several benefits: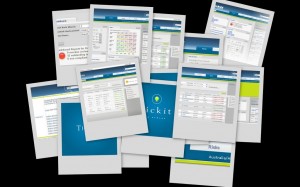 There is no need to install any software on your servers or PCs, all you need is any standard internet browser like IE 6 or 7 and above or Mozilla Firefox 2.0 and above to use Tickit on demand.
Tickit on demand updates and upgrades can easily be deployed to your instance of Tickit saving your IT team time.
Tickit on demand is hosted professionally in a safe, scalable and fault tolerant environment. Data is partitioned into a per client database with strict access policies.
This means you have a simple, intuitive risk and compliance application that can very rapidly be deployed across your business.