SCHOOL COMPLIANCE MADE EASY
 Supporting schools in achieving regulatory compliance goals.
Tickit On Demand helps you manage your risks, tasks, incidents, policies, and procedures.
Tickit On Demand is aligned with the ISO 31000 risk management – Principles and Guidelines, as well as ISO27001, certified information security management system.
An Australian-owned and operated company, Tickit On Demand is a proud supporter of Australian Education.
Tickit On Demand provides a structured framework for risk management, compliance management, incident management, complaint management, audit issue management, policy and procedure library, and much more.
What sets us apart?
"A dedicated solution provider to educational institutions must provide you with exceptional customer service and be privileged in working with you." That is what we believe in at Tickit Systems. This quick fact checklist will offer you an insight into selecting the right solution.
Tickit Systems Service Delivery Team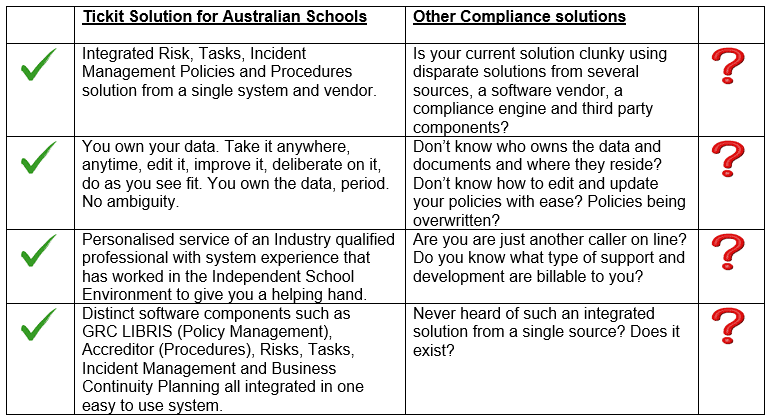 Tickit can customize the solution promptly. With developers and support staff in the house.
Legislative and Regulatory Compliance
Load your compliance obligations in Tickit On Demand and manage them yourself. Easily allocate obligations to staff in your school and track task completion.
Incident / Breach and Complaints Reporting
Configure your own incident/breach reporting form or even a complaints reporting form. These forms can be published on your intranet making them easily accessible to anyone in your school to report an incident or a potential breach. These issues can then be managed in Tickit On Demand.
Risk Management
Tickit On Demand provides an ISO 31000 aligned risk management framework that enables users to maintain a risk register, create risk mitigation tasks and generate quality risk reports to the Board.
Need some help?
If you require assistance or guidance with your risk and compliance frameworks, Tickit Systems has in-house consultants that have worked in the Independent School environment that can assist. Services that they provide can include a review of your current processes, implementation of a compliance monitoring framework and ongoing risk and compliance support with policies and procedures. If you would like to know more, please contact us.